Home

›
Transfer from Milan to popular destinations
from 82,00 €

from 76,00 €

from 53,00 €

from 71,00 €

from 109,00 €

from 130,00 €

from 236,00 €

from 255,00 €

from 348,00 €

from 449,00 €
See the rates from
Transfer from Milan to other destinations
How to get from Milan to Malpensa Airport, Bergamo Orio al Serio or to Lake Como?


Are you searching for a Transfer from Milan Malpensa Airport to city center or from hotel to Lake Como? We are glad you found our website as we are the premier transfer service and Milan Airport limo service. We can offer you our services when you need a transfer from Milan Airport and we also offer limo service in Milan as well. If you want to deal with the best tax service in Milan then look no further then KNOPKA TRANSFER as we can easily service your needs and provide you with an elegant ride to your destination in our spotless and clean vehicles with professional chauffeur's that will get you to where you need to go smoothly and safely at an affordable rate. If you are looking for elegance and class our transfer from Milan Airport and Limo service in Milan is a great way to enjoy your vacation.
We can have our drivers waiting for you as you transfer from Milan Airport with a sign in your name. Our company representatives speak English, Italian and Russian and will be more than happy to help you with limo services in Milan. We also offer Milan Airport Taxi services and we can take you anywhere in our high-class vehicles and comfortable fleet of busses. We offer service both to business people as well as tourists. Ultimately our services are aimed at giving you an elegant experience that will help make your vacation or business trip even better.
If you have been searching for a transfer from Milan Airport or a personal chauffeur in Milan look no further then the services that we provide. Our rates are affordable and competitive and the stylish class and high grade and comfortable vehicles will give you a feeling of elegance. Treat yourself like royalty by hiring us for your transfer services. We also offer a minibus, a touring bus as well as a minivan with driver and child seat for families. Contact us today and experience a smooth, safe and comfortable transfer from Milan's top locations.
You can reserve a personal chauffeur in Milan or you can order a transfer from Milan Airport ahead of time by contacting us via our phone number or ordering through our website online. We will be more than happy to please you and being the leading Milan Airport Taxi service you will see why our clients continue to choose us for their needs.
Transportation and taxi in Milan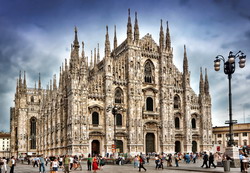 Milan is called to be one of the world`s leading centers of fashion and design, science and technology. During the Second World War, the city was badly damaged, but it was rebuilt and today it harmoniously combines the medieval monuments and ultramodern business districts. Milan is a dream that comes true for shoppers, because the local boutiques are among the best in the world. If you want to learn Milan better you should go to the Piazza del Duomo, where you can see the majestic Cathedral of the same name. You should also visit the Pinacoteca Ambrosiana, where you can enjoy masterpieces by Raphael, Caravaggio and Titian (Tiziano). The famous La Scala will please you with the best soprano voice of the world`s opera. Come to Milan and we will meet you and drive you with comfort from the airport to the hotel, and after your holidays we will help you to get to the airport from Milan just in time. All that you have to do is to book a transfer to the hotel in Milan from our company and we will take care about the rest.
Book a personal driver from Airport to Hotel
Bulgari Hotels & Resorts Milano, Hotel Principe Di Savoia, Palazzo Parigi Hotel & Grand Spa Milano, Armani Hotel Milano, Park Hyatt Milano, Magna Pars Suites Milano SLH, Chateau Monfort, Grand Hotel et de Milan, Boscolo Milano Autograph Collection, Four Seasons Hotel Milano, Carlton Hotel Baglioni, Seven Stars Galleria, Melia Milano, The Westin Palace, Town House 8, The Gray, Style Hotel, Hotel Pierre Milano, Starhotel Rosa Grand, Hotel Plaza