Transfer from Milan to Verona Airport Boscomantico
Mercedes C-Class, E-Class
Business Class
4
4
256,00
Mercedes S-Class, Audi A8, BMW 730, Cadillac STS
Luxury Class
3
3
401,00
Mercedes Viano, Mercedes Vito, Volkswagen Caravelle
Business Minivan
8
8
363,00
Mercedes Sprinter, Ford Transit
Standart Minivan Long
8
12
435,00
Mercedes Sprinter 415
Standart Minivan ExtraLong
16
10
473,00
Mercedes 404
Bus Standart
37
37
530,00
Mercedes Tourismo, Setra 515, Volvo 9700
Bus Premium
52
52
1095,00
Private chauffeur service from Milan | Free waiting in airport and Free Child Safety seats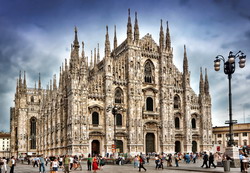 Milan is called to be one of the world`s leading centers of fashion and design, science and technology. During the Second World War, the city was badly damaged, but it was rebuilt and today it harmoniously combines the medieval monuments and ultramodern business districts. Milan is a dream that comes true for shoppers, because the local boutiques are among the best in the world. If you want to learn Milan better you should go to the Piazza del Duomo, where you can see the majestic Cathedral of the same name. You should also visit the Pinacoteca Ambrosiana, where you can enjoy masterpieces by Raphael, Caravaggio and Titian (Tiziano). The famous La Scala will please you with the best soprano voice of the world`s opera. Come to Milan and we will meet you and drive you with comfort from the airport to the hotel, and after your holidays we will help you to get to the airport from Milan just in time. All that you have to do is to book a transfer to the hotel in Milan from our company and we will take care about the rest.
Economic minivan oe business sedan from Milan and Airport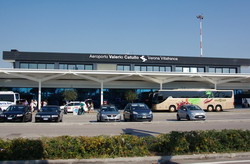 Verona Airport VRN is one of the Italy`s biggest airports with the passenger turnover of about several million people per year. Special attention shoul be payed to the good location of the airport: it is situated between province of Mantua, Brescia, Vicenza, not far from Verona, Bolzano ecc. In general, you can easily get to the city. The main thing is to decide on the best option for you to be transfered to the city. You can order a taxi...if only you have extra money to spend. You can also use the public transportation way, which is much cheaper than a taxi..if only you have got extra time to spend. Or else you can order the transfer service from the airport to Verona from our company and you can count on high quality service, on maxium comfort and the reasonable pricing. Our company transfer service is you best possible choice!