Home

›
Transfer from Nice to popular destinations
from 70,00 €

from 70,00 €

from 75,00 €

from 55,00 €

from 55,00 €

from 140,00 €

from 163,00 €

from 219,00 €

from 253,00 €

from 347,00 €

from 340,00 €

from 449,00 €

from 746,00 €
See the rates from
Transfer from Nice to other destinations
How to get from Nice Airport to city center, Cannes, Monaco, or Saint Tropez?


If you are searching for a transfer from the Nice airport, be sure to use our Nice Airport taxi service. When it comes to getting to your destination in comfort as well as elegance and style we can help you. We also offer a limo service in Nice and Cannes. We are a leading taxi and driving service and we have been in business for years with multiple locations around the world. Find out why we are the top choice with both competitive and affordable rates driving services that also include elements such as a personal chauffeur in Monaco and we can also supply you with a personal driver in Cannes. We offer the top service in this local area as we use only the worlds finest high-class vehicles and employ educated and professional drivers who are sure to get you to your destination safely and in maximum comfort and grace. We provide the ride as we are a full-service Nice Airport taxi and we can also offer things such as a transfer to Saint Tropez price that is affordable for a quality delivery to your destination.
We employ only the finest drivers and support staff and we are proud to announce that we are fluent in multiple languages that include English, Russian as well as Italian. We can have a driver meet you with a sign with your name and offer you a transfer from Nice Airport or if needed we also provide a luxury limo service in Nice and Cannes. We employ a fleet of different top of the line vehicles that include limousines, minibusses, full buses as well as minivans with a driver and child seat. We take pride in being the leading Nice Airport taxi. We can also provide you with a personal driver in Cannes if needed. Want to know the transfer to Saint Tropez price? Just be sure to contact our friendly and helpful support team. We tailor our services to tourists, families as well as business executives and celebrities. We have a five-star customer service rating and treat our customers and clientele like gold. If you want to arrive in comfort, safety and on time then be sure to contact us today to book a driver. As mentioned we are the top choice for people looking for a personal chauffeur in Monaco. People also admire our ability to provide the best personal driver in Cannes. We are a fully featured service and take pride in making our customers happy.
Transportation and taxi in Nice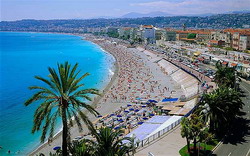 Nice is one of the largest French cities (the fifth largest). In addition, Nice is the unofficial capital of the Cote d`Azur, and the second city in France by the number of museums. Familiarity with Nice`s is best to start with the center - Massena area can be regarded as a kind of a compass. To the east of the square you will find the old quarters of Nice, and if turn to the west you will see the new ones. If you want to explore the city by slowly walking along its streets, you`d better choose the central waterfront Promenade des Anglais that is perfect for hiking. The walking can`t stand the rush. But after your arrival to the Nice airport you shouldn`t spend you time in vain for waiting a bus, especially since there is a great alternative: you can order from our company a transfer to the hotel in Nice and expect a high level of service for an affordable cost. Using our services once, we are sure you will contact us again, for example, for getting from Nice to the airport fastly and comfortably.
Book a personal driver from Airport to Hotel
Hotel Negresco, Hyatt Regency Nice Palais de la Mediterranee, Boscolo Exedra Nice, Radisson Blu Hotel Nice, Hotel West End Promenade des Anglais, Goldstar Resort & Suites, Le Meridien Nice, Hotel Massena, Mercure Nice Centre Grimaldi, Hotel Aston La Scala, Hotel Westminster, Beau Rivage, Holiday Inn Nice, B4 Nice Plaza, AC Hotel Nice, Adagio Nice Promenade des anglais, Mercure Centre Notre Dame Nice, Mercure Nice Marche Aux Fleurs, Splendid Hotel & Spa Nice, Suite Novotel Nice Aeroport Arenas