Transfer from Nice to Pisa International Airport
Mercedes C-Class, E-Class
Business Class
4
4
505.00
Mercedes S-Class, Audi A8, BMW 730, Cadillac STS
Luxury Class
3
3
on request
Opel Vivaro, Renault Trafic
Economy Minivan
7
7
657.00
Mercedes Viano, Mercedes Vito, Volkswagen Caravelle
Business Minivan
8
8
689.00
Mercedes Sprinter 415
Standart Minivan ExtraLong
16
10
on request
Mercedes Tourismo, Setra 515, Volvo 9700
Bus Premium
52
52
on request
Private chauffeur service from Nice | Free waiting in airport and Free Child Safety seats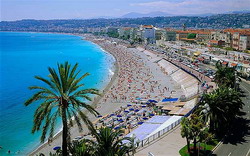 Nice is one of the largest French cities (the fifth largest). In addition, Nice is the unofficial capital of the Cote d`Azur, and the second city in France by the number of museums. Familiarity with Nice`s is best to start with the center - Massena area can be regarded as a kind of a compass. To the east of the square you will find the old quarters of Nice, and if turn to the west you will see the new ones. If you want to explore the city by slowly walking along its streets, you`d better choose the central waterfront Promenade des Anglais that is perfect for hiking. The walking can`t stand the rush. But after your arrival to the Nice airport you shouldn`t spend you time in vain for waiting a bus, especially since there is a great alternative: you can order from our company a transfer to the hotel in Nice and expect a high level of service for an affordable cost. Using our services once, we are sure you will contact us again, for example, for getting from Nice to the airport fastly and comfortably.
Economic minivan oe business sedan from Nice and Airport

Pisa Airport PSA (Pisa International Airport) is the largest airport in Italy, which annually serves more than one million passengers. To get to the city of Pisa, you can just in a few minutes (by car), as it is just 4 kilometers away from Pisa. The Airport is 35 km away from Lucca, 90 km away from Prato and 110 km aay from Florence. The airport has a railway station with an every half hour running express. You can take a bus that drives you to the station Pisa Central. These options are cheaper than a taxi, but you will have to endure some inconveniences on you way, especially if you are carrying heavy luggage or traveling with children. In this case it is better to book a transfer from the airport to Pisa from our company, thus you can count on a guaranteed comfort and affordable prices.