Transfer from Nice to Milan
Fiat Punto, Peugeot 206, Vokswagen Golf, Fiat Doblo
Economy
3
2
449.00
Toyota Avensis, Volkswagen Passat, Chevrolet Cruze, KIA Sportage
Comfort
4
3
430.00
Mercedes C-Class, E-Class
Business Class
4
4
633.00
Mercedes S-Class, Audi A8, BMW 730, Cadillac STS
Luxury Class
3
3
1139.00
Mercedes Viano, Mercedes Vito, Volkswagen Caravelle
Business Minivan
8
8
633.00
Mercedes Sprinter, Ford Transit
Standart Minivan Long
8
12
762.00
Mercedes Sprinter 415
Standart Minivan ExtraLong
16
10
1035.00
Mercedes Tourismo, Setra 515, Volvo 9700
Bus Premium
52
52
on request
Private chauffeur service from Nice | Free waiting in airport and Free Child Safety seats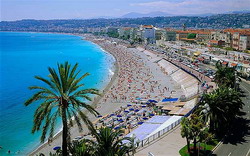 Nice is one of the largest French cities (the fifth largest). In addition, Nice is the unofficial capital of the Cote d`Azur, and the second city in France by the number of museums. Familiarity with Nice`s is best to start with the center - Massena area can be regarded as a kind of a compass. To the east of the square you will find the old quarters of Nice, and if turn to the west you will see the new ones. If you want to explore the city by slowly walking along its streets, you`d better choose the central waterfront Promenade des Anglais that is perfect for hiking. The walking can`t stand the rush. But after your arrival to the Nice airport you shouldn`t spend you time in vain for waiting a bus, especially since there is a great alternative: you can order from our company a transfer to the hotel in Nice and expect a high level of service for an affordable cost. Using our services once, we are sure you will contact us again, for example, for getting from Nice to the airport fastly and comfortably.
Economic minivan oe business sedan from Nice and Airport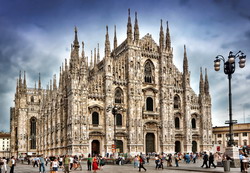 Milan is called to be one of the world`s leading centers of fashion and design, science and technology. During the Second World War, the city was badly damaged, but it was rebuilt and today it harmoniously combines the medieval monuments and ultramodern business districts. Milan is a dream that comes true for shoppers, because the local boutiques are among the best in the world. If you want to learn Milan better you should go to the Piazza del Duomo, where you can see the majestic Cathedral of the same name. You should also visit the Pinacoteca Ambrosiana, where you can enjoy masterpieces by Raphael, Caravaggio and Titian (Tiziano). The famous La Scala will please you with the best soprano voice of the world`s opera. Come to Milan and we will meet you and drive you with comfort from the airport to the hotel, and after your holidays we will help you to get to the airport from Milan just in time. All that you have to do is to book a transfer to the hotel in Milan from our company and we will take care about the rest.