Home

›
Transfer from Florence to popular destinations
from 60,00 €

from 169,00 €

from 190,00 €

from 184,00 €

from 259,00 €

from 506,00 €
See the rates from
Transfer from Florence to other destinations
How to get from Florence to Peretola Airport, Forte dei Marmi, Pisa or Siena?

Are you looking for a transfer from Florence Airport? We can provide you with a driving service that will bring you in comfort to your desired destination. We offer a Florence Airport taxi service as well as offer a limo service in Florence too. Perhaps you need a minivan with driver or you want to tour the different areas including Pisa, Siena, Forte Dei Marmi or need a ride from Florence to Venice? We are the premier driving service of Western Europe and we have many offices situated in major cities to help you travel in maximum comfort, elegance and style. Whether you need a personal chauffeur in Florence or would just like know a transfer price continue reading to find out how we can provide you with a safe ride in one of our high-class vehicles available amongst our fleet of spotless and incredibly clean modes of transport.
If you need a Florence Airport taxi to transport you to your hotel or different locations be sure to browse our website or book your appointment with us today. We offer a toll-free phone number that is operated by our friendly and helpful staff that are fluent in different languages that include English, Italian as well as Russian. We are a complete private driving service and can offer you limo service in Florence or if you need a chauffeur in Florence. We have different vehicles that include minibusses, regular buses, limousines as well as a minivan with driver. Whether you would like to tour the scenery of Pisa, Siena or Forte dei Marmi we can take care of you. We employ only the best and knowledgeable drivers that can transport you from Florence to Venice and we can also pick you up from your flight with our full-service Florence Airport taxi abilities.
We have transported everyone from celebrities, to business people and individuals looking to see the sights and sounds or need a limo service in Florence. We provide excellent customer service and are rated as the #1 driving service in Western Europe. Our friendly and professional staff will be more then happy to assist you in booking your transportation or you can also book your trip on our website. You will be pleased with our safe and friendly drivers and comfortable and luxurious vehicles. Be sure to contact us today to arrange for your transfer from Florence Airport or if you need driving around Pisa, Siena or Forte Dei Marmi right now!
Transportation and taxi in Florence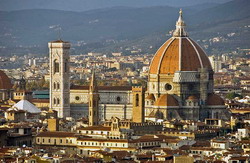 Florence, the capital of Tuscany, is the ancient city, which was founded by Julius Caesar in person. Florence can be called a city of contrasts: it harmoniously combines here the atmosphere of a great past and the spirit of a dinamic modern city lifestyle, that warmly welcomes its guests with shopping, kitchen and numerous activities. What do you have to do if you come to Florence? It is necessary to walk along the old bridge, looking into the Corridoio Vasariano, to visit the Uffizi Gallery exploring the masterpieces of the Renaissance painters, to admire the monument to Dante, to taste the famous Tuscan wines. But before that you have to make a plan for some organizational issues, including the one to book the transfer service from the airport to your hotel in Florence and then from the hotel back after your holidays. Such your forsight will help you to save your time, nerves and money in your future trip. We are looking forward to receiving your orders! Please feel free to contact us!
Book a personal driver from Airport to Hotel
Hotel Savoy, Villa Tolomei Hotel&Resort, Il Salviatino, Hotel Bernini Palace, Four Seasons Hotel Firenze, Grand Hotel Villa Cora, Golden Tower Hotel & Spa, Relais Santa Croce by Baglioni Hotels, Appartamento Via Chiesa, Hotel Helvetia & Bristol, Villa La Vedetta, J.K. Place Firenze, Grand Hotel Villa Medici, Hotel Montebello Splendid, Hotel Regency, Hotel Diplomat, NH Porta Rossa, Hotel Roma, Firenze Number Nine, Grand Hotel Minerva