Home

›
Transfer from Florence Airport Amerigo Vespucci - Peretola (FLR) to popular destinations
from 60,00 €

from 169,00 €

from 190,00 €

from 154,00 €

from 259,00 €

from 506,00 €
Transfer from Florence Airport Amerigo Vespucci - Peretola to other destinations
How to get from Florence Airport Amerigo Vespucci - Peretola to airport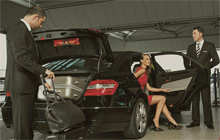 When visiting Florence Airport Amerigo Vespucci - Peretola, you can book a per-hour car rental with driver from 2 hours/day and more. Meet and Greet service, offered by our company, will significantly simplify the meeting in the airport for the newcomers. Using a "car rental with driver" service you can vesit the places of interest, famous shops or outlets to do some shopping near the city, saving your time in this way. Florence Airport Amerigo Vespucci - Peretola chauffeur service offered by our company will cost you much cheaper to order a car rental with driver with us than to hire a taxi driver. To book the economy car or minivan with chauffeur or a comfortable premium class car, coach, shuttle bus up to 50 seats, please choose the button. Per hour rental in the left upper corner of the page, write in the [Departure:] field the departure point and number of hours.
Transportation and taxi in Florence Airport Amerigo Vespucci - Peretola

Florence Amerigo Vespucci Airport FLR is the international Florence airport that has several names, such as Amerigo Vespucci (in honor of the Florentine traveler) or Peretola Airport (named after the area in Florence, where it is located). Florence airport is five kilometers away from the city and so you can reach the city in various ways. You can take the special express, which runs every half an hour (it`s cheaper than a taxi, but will force you to endure some inconveniences). You can order a taxi or a transfer service from the airport to Florence. The latter option of transfer service is sure to be more affordable in terms of pricing with all other things being equal to the taxi service, so recently a transfer service becomes amore and more popular. If you are interested in a transfer from the airport to Florence, please contact us, we can guarantee the high quality service at minimal prices.
Book a personal driver from hotel near Florence Airport Amerigo Vespucci - Peretola
Hotel Savoy, Villa Tolomei Hotel&Resort, Il Salviatino, Hotel Bernini Palace, Four Seasons Hotel Firenze, Grand Hotel Villa Cora, Golden Tower Hotel & Spa, Relais Santa Croce by Baglioni Hotels, Appartamento Via Chiesa, Hotel Helvetia & Bristol, Villa La Vedetta, J.K. Place Firenze, Grand Hotel Villa Medici, Hotel Montebello Splendid, Hotel Regency, Hotel Diplomat, NH Porta Rossa, Hotel Roma, Firenze Number Nine, Grand Hotel Minerva