Transfer from Florence
⇔

Pisa

Fiat Punto, Peugeot 206, Vokswagen Golf, Fiat Doblo

Economy

3

2

150.00

Mercedes C-Class, E-Class

Business Class

4

4

158.00

Mercedes S-Class, Audi A8, BMW 730, Cadillac STS

Luxury Class

3

3

244.00

Opel Vivaro, Renault Trafic

Economy Minivan

7

7

201.00

Mercedes Viano, Mercedes Vito, Volkswagen Caravelle

Business Minivan

8

8

210.00

Mercedes Sprinter 415

Standart Minivan ExtraLong

16

10

on request

Mercedes Tourismo, Setra 515, Volvo 9700

Bus Premium

52

52

on request
Cheap transfer service from Florence to Pisa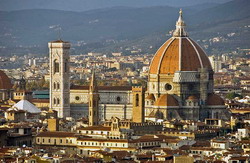 Florence, the capital of Tuscany, is the ancient city, which was founded by Julius Caesar in person. Florence can be called a city of contrasts: it harmoniously combines here the atmosphere of a great past and the spirit of a dinamic modern city lifestyle, that warmly welcomes its guests with shopping, kitchen and numerous activities. What do you have to do if you come to Florence? It is necessary to walk along the old bridge, looking into the Corridoio Vasariano, to visit the Uffizi Gallery exploring the masterpieces of the Renaissance painters, to admire the monument to Dante, to taste the famous Tuscan wines. But before that you have to make a plan for some organizational issues, including the one to book the transfer service from the airport to your hotel in Florence and then from the hotel back after your holidays. Such your forsight will help you to save your time, nerves and money in your future trip. We are looking forward to receiving your orders! Please feel free to contact us!
How much taxi costs from Florence to Pisa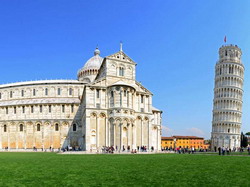 Pisa is a unique Italian city that is ready to surprise its guests not only by the famous leaning tower , but also by a huge number of other attractions, that are not less worthy than the tower. Pisa is a city of students (more than half of the city residents are students) and it often hosts various parties, concerts, performances, cultural events citywide. At night the city does not live less active than during the day. If you want you vacation to become bright, saturated, filled with lots of positive emotions, Pisa is an excellent choice for you. Do not forget that the quality of you rest depends on how responsible you have arrangedto its organization. Do you want nothing to spoil your vacation? Then start with contacting our company: here you can order a transfer service to your hotel in Pisa, also we can help you to get from Pisa to the airport. In any case you can be sure to travel in a comfortable car , which will be served on time that will quickly drive you to the agreed place. We are looking forward to receiving your order!
Transfer Florence Pisa
How to get from Florence to Pisa
Florence Pisa taxi
Florence Pisa transfer price
To go from Florence to Pisa
Transfer Florence Pisa price Euro
Limousine service - per hour rental
Airport transfer services
7 seater minibus with driver
To get from Florence to airport or cruise port
Transfer by minibus from Florence to Pisa
Private driver for Mercedes E, S Class
Book a transfer from Florence to Pisa price
Baby seat
A lot of luggage and ski equipment
Mercedess Viano with baby seat
Florence airport business transfer
How much is taxi from Florence to Pisa
Florence Pisa reailway station
Transportation from Florence to Pisa price Euro
Taxi from Florence to Pisa how much
Book online without a credit card
Meet and Great Service
Book a 16 seater bus with driver
Santa Maria Novella railway station
Trenitalia Train Station in Florence
Borgo San Lorenzo
Faenthina Railway
High-Speed Rail station
ATAF and Linea Bus Station
Piazza della Stazione
Florence Airport Peretola
Bolgheri region
Firenze-Peretola Ameri