Home

›
Transfer from EuroAirport Basel-Mulhouse-Freiburg (BSL) to popular destinations
from 252,00 €

from 273,00 €

from 472,00 €

from 519,00 €

from 544,00 €

from 690,00 €

from 617,00 €

from 665,00 €

from 720,00 €

from 721,00 €

from 746,00 €

from 757,00 €

from 800,00 €
Transfer from EuroAirport Basel-Mulhouse-Freiburg to other destinations
How to get from EuroAirport Basel-Mulhouse-Freiburg to airport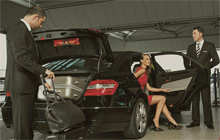 When visiting EuroAirport Basel-Mulhouse-Freiburg, you can book a per-hour car rental with driver from 2 hours/day and more. Meet and Greet service, offered by our company, will significantly simplify the meeting in the airport for the newcomers. Using a "car rental with driver" service you can vesit the places of interest, famous shops or outlets to do some shopping near the city, saving your time in this way. EuroAirport Basel-Mulhouse-Freiburg chauffeur service offered by our company will cost you much cheaper to order a car rental with driver with us than to hire a taxi driver. To book the economy car or minivan with chauffeur or a comfortable premium class car, coach, shuttle bus up to 50 seats, please choose the button. Per hour rental in the left upper corner of the page, write in the [Departure:] field the departure point and number of hours.
Transportation and taxi in EuroAirport Basel-Mulhouse-Freiburg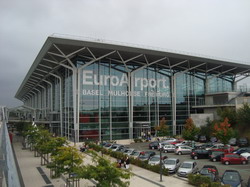 Basel Euroairport BSL is actually located on the territory of France, bordering Switzerland, it belongs to two countries at the same time. This is one of the best airports in the Upper Rhine, serving millions of tourists every year. A very good location of the airport deserves a special attention, which is equidistant from the three states. Thus, the answer to the question of how to get to the city, will depend on where you want to go - to France, Austria or Switzerland. If you are looking for a cheaper option than a taxi, you should pay attention to public transfer. For example, every 20 minutes a bus runs from the airport to the center Basel. Нou can get to the French town of Mulhouse, if you take a taxi, which moves with an interval of one hour. Also, once in every two hours, you have a chance to go to the German city of Freiburg. If you do not want to wait and don`t want to overpay for a taxi, the best way is to book a transfer service from the airport to Basel or any other city: fastly, easyly an an affordable price.
Book a personal driver from hotel near EuroAirport Basel-Mulhouse-Freiburg
Zurich Marriott Hotel, Eden Au Lac, Savoy Baur en Ville, Alden Luxury Suite Hotel Zurich, Renaissance Zurich Tower Hotel, Baur au Lac, The Dolder Grand, Widder Hotel, Park Hyatt Zurich, St. Gotthard, Central Plaza, Wellenberg Swiss Quality Hotel, Hotel Glarnischhof, Hotel Continental Zurich - MGallery Collection, Steigenberger Hotel Bellerive au Lac, Hotel Storchen, Schweizerhof Zurich, Hotel Ambassador a l'Opera, Zurich, Ascot Hotel, Sorell Hotel Zurichberg