Home

›
Transfer from Stockholm to popular destinations
from 90,00 €

from 70,00 €

from 156,00 €

from 127,00 €

from 65,00 €

from 105,00 €

from 127,00 €

from 127,00 €

from 173,00 €

from 253,00 €
See the rates from
Transfer from Stockholm to other destinations
How to get from Stockholm to Airport or other city in Sweden?


Do you need a transfer from Stockholm Airport? Find out how we can help you with transportation if you need a Stockholm Airport taxi. We are the leading transportation service provider and we also can do such things as provide a limo service in Stockholm. We can also provide you with a minivan with driver and child seat. We are a full service company that is the most popular and widely sought after in Europe. We offer you a safe and luxurious method of getting to your destination with our spotless and clean high class fleet of vehicles. We can pick you up directly from the airport with your driver and we also offer solutions such as a personal chauffeur in Stockholm if needed. We take pride in being the #1 customer rated transportation service provider and with our affordable rates and prices you will understand why we excel above the rest. Continue reading below on how we can help you with transportation like a transfer from Stockholm airport or if you happen to require a minivan with driver and child seat. We can help you.
We showcase a wide range of vehicles that include such things as minibusses, regular busses, limousines, private cars and a minivan with driver and child seat. Making your travels safe and economical are some of our top priorities and treating our clintelle like family is what makes us a top choice for those who need services. Whether you need a Stockholm Airport taxi or a personal chauffeur in Stockholm we can help you. Our service staff are highly professional and well trained and are fluent in many different languages that include English, Russian and Italian. We ensure that we will get you to your destination in elegant style and comfort. We drive safely and offer competitive rates and prices that is affordable for almost any budget. We have transported celebrities, families on vacation as well as business people. We are a full service transportation company6 and include a limo service in Stockholm as needed.
Be sure to book your appointment ahead of time by either calling our friendly customer service staff at our toll-free number or contact us through our website. We are more than happy to ensure you receive a quality ride in one of our safe, luxurious vehicles driven by one of our refined drivers who are happy to serve you. Be sure to contact us today!
Transportation and taxi in Stockholm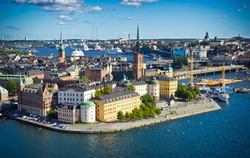 Stockholm is the capital of Sweden, one of the most remarkable European cities that are particularly noteworthy for their picturesque northern beauty. Deciding to go on holidays to Stockholm, you can be sure that you will never get bored here. The city will welcome you with a lot of museums, architectural and historical attractions, lots of cafeterias, where you can have some rest and have a snack after a long day. The city doesn`t sleep at night, but starts living the night life with a lot of night clubs and discos. If you want to see as much as possible sights of Stockholm you shouldn`t waste your time, especially for waiting a transport. After your arrival you should order a transfer service to your hotel in Stockholm from our company: our representative will meet you at the airport, will accompany you to a comfortable car and will quickly deliver you to the hotel. After you vacation you can also contact us and we will help you to get from Stockholm to the airport, so you can come back home with a plenty of warm, bright, positive emotion and memories.
Book a personal driver from Airport to Hotel
Nobis Hotel, Radisson Blu Strand Hotel, Stockholm, Grand Hotel Stockholm, Lydmar Hotel, Radisson Blu Waterfront Hotel, Stockholm, Radisson Blu Royal Viking Hotel, Stockholm, Mornington Hotel Stockholm, Miss Clara by Nobis, Hotel Terminus, Biz Apartment Gardet, Freys Hotel, Hotel Skeppsholmen, Elite Palace Hotel, Hotel Diplomat Stockholm, Elite Eden Park Hotel, Collector`s Lady Hamilton Hotel, Collector`s Victory Hotel, Courtyard by Marriott Stockholm, Best Western Plus Time Hotel, Residence Perseus