Home

›
Transfer from Rome to popular destinations
from 55,00 €

from 55,00 €

from 115,00 €

from 314,00 €

from 368,00 €

from 380,00 €

from 394,00 €

from 397,00 €
See the rates from
Transfer from Rome to other destinations
How to get from Rome to Cruise Terminal Civitavecchia, Airport Fiumicino or Ciampino?


Want a transfer from Rome cruise terminal? Need a Rome Airport taxi service? We can offer you the best and most comfortable transportation to your destination as we are the leading western European person driving service. We offer such things as a limo service in Rome as well as options that include such things as a minivan with driver and child seats as well as a personal chauffeur in Rome. Your options are virtually unlimited and we offer a fair transfer price with competitive rates. Find out why we are the top choice among our customers and realize the benefits of hiring one of our vehicles to drive you to your location. We aim to keep our clientele happy which makes us an award winning service with thousands of happy clients that use us exclusively. We can offer you full comfort and style whether you need a transfer from Rome cruise terminal or you need a Rome airport taxi. Continue reading as we discuss the different benefits on how we can make your transportation more comfortable and elegant with our fleet of high-class and clean vehicles.
Searching for a limo service in Rome or a personal chauffeur in Rome? Our driving experts are fluent in multiple languages that include English, Russian and Italian. We are the leading driving service in all of Western Europe with many different locations transporting our happy clientele to where they need to go with the utmost professionalism and class. If you need a Rome airport taxi you can contact us ahead of time and we can have our driver meet you at the gateway. We have transported everyone including celebrities, high class business people as well as visitors and families. If you need a minivan with driver and child seats we can most definitely help you with that need. Want a limo service in Rome for a business event or a night out on the town? We can also offer you those services with competitive rates, premier comfort, and safety as we drive you.
Be sure to contact us today and book your appointment by either talking to one of our pleasing customer service agents on our toll-free number or you can always book your transport on our website. We look forward to hearing from you and helping you with your needs. Contact us today and we you will find out for yourself why we are the top personal driving service.
Transportation and taxi in Rome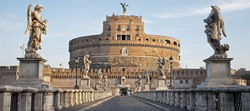 Rome is the largest city in Europe, it is the economical and political center of Italy and of the European Union. However the majority of tourists come to Rome not just bacause of that. Rome is not just a tourist town but also a collection of a huge number of attractions, it is an open air museums. When planning a trip to Rome, do not forget to plan the entertainment program, which should look something like this: to enter the arena of the Colosseum, to climb the Palatium Hill (Palatine), to see how Rome was born, to drink some water from a public water fountain, to throw a coin into the Trevi Fountain and get sure to come back here again. Don`t forget to add to your plan some organizational issues such as booking a transfer service from the airport to the city at our website and for the return transfer as well. You will spend for it just 5 minutes but you will save much more time in future avoiding potencial difficulties. Thus you will have more time for admiring the local sights.
Book a personal driver from Airport to Hotel
Hotel D`Inghilterra, Rome Cavalieri, Waldorf Astoria Hotels and Resorts, Hotel Majestic Roma, DOM Hotel Roma, Hotel Raphael – Relais & Chateaux, Hotel Splendide Royal - Small Luxury Hotels of the World, Ambasciatori Palace Hotel, J.K. Place Roma, Palazzo Montemartini, Boscolo Aleph Roma, Gran Melia Rome, Aldrovandi Villa Borghese - The Leading Hotels of the World, Boscolo Exedra Roma, Autograph Collection, Radisson Blu es. Hotel, Roma, Sofitel Rome Villa Borghese, Intercontinental De La Ville Rome, Regina Hotel Baglioni - The Leading Hotels of the World, The First Luxury Art Hotel Roma, Hassler Roma