Home

›
Transfer from Dusseldorf to popular destinations
from 87,00 €

from 51,00 €

from 73,00 €

from 105,00 €

from 108,00 €

from 160,00 €

from 423,00 €

from 288,00 €

from 295,00 €

from 368,00 €

from 341,00 €

from 403,00 €
See the rates from
Transfer from Dusseldorf to other destinations
How to get from Dusseldorf to Frankfurt Airport, Koln Bonn Airport, Dortmund or Eindhoven?


Have you been looking online for a transfer from Dusseldorf Airport or perhaps a Koln Bonn Airport taxi service? When it comes to acquiring a transfer or limo service in Dusseldorf then look no further than this webpage as we can take care of you with our professional taxi service. We are world renown and are the leading transfer service in Europe. We provide our elegant driving services and feature affordable prices and competitive rates. We only hire the most professional drivers giving you an experience that is comfortable and safe. When you need a personal chauffeur in Dusseldorf we can also provide you with that experience. Continue reading as we show why we are the leading taxi company and how we can help you get the best experience while arriving on time and safely from your destination.
We are a Koln Bonn Airport taxi service and we also offer a transfer from Dusseldorf Airport. If you desire to have a driver meet you as you get off your flight you can put our trust in us as we will send a driver with a sign with your name on it that will be happy to escort you to the awaiting vehicle. All of our staff are entirely professional as we only hire the best and our staff is trained in different languages that include English, Italian and Russian. We take a lot of pride in being Europe's premier taxi service and we also can transfer you to locations that include Dortmund as well as from Dusseldrof to Eindhoven. If you want to hire only the most competent and best company we are your solution. We have an entire fleet of different vehicles that include minibusses, full busses, and we can also provide you with a personal chauffeur in Dusseldorf. We aim to treat our clientelle like family and friends and offer our services to tourists, families on vacation as well as business people and those that would like to travel in comfort safely and get to their destinations on time.
We are also the leading Koln Bonn Airport taxi service and as we mentioned earlier we can service areas that include transfer from Dusseldorf Airport and we service areas that include Dortmund and have packages traveling from Dusseldorf to Eindhoven. Contact us today and book your limo service in Dusseldorf or call us if you need a Koln Bonn Airport taxi. We are the leading driving service providers and when you try us you will understand why our customers give us glowing reviews and continue to use us over other companies. Contact us today and book your appointment by giving our friendly staff a phone call or book on our website now.
Transportation and taxi in Dusseldorf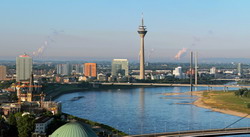 Dusseldorf is one of the largest cities in Germany. The modern part of the city is located on the left bank of the Rhine, while the historic center is on the right bank. There are many attractions, monuments, museums, restaurants and boutiques. Dusseldorf is one of the most important economic centers of Europe. There are about 40 specialized international exhibitions dedicated to different subjects. The exhibitions, which take place in expo-centers Messe Dusseldorf and the Dusseldorf Congress, are visited by hundreds of thousands visitors from all around the world. As for the shopping and stores, Dusseldorf is highly competitive with Berlin. Just visit Shopping center Königs-Galerie to make sure of it. Transport interchange of the city is quite convenient. Nevertheless, the most convenient and profitable way to travel is to use a car with the driver. We offer you to see a list of all car types on our website that you can book in Dusseldorf to drive you to the airport or any other city of Europe.
Book a personal driver from Airport to Hotel
Derag Livinghotel De Medici, InterContinental Hotel Dusseldorf, Steigenberger Parkhotel, Hilton Dusseldorf, Hyatt Regency Dusseldorf, Breidenbacher Hof, a Capella Hotel, The Red Apartments, Hotel Favor,Hotel Orangerie, Hotel-Villa Achenbach, Hotel Favor, Hotel Indigo Dusseldorf - Victoriaplatz, Leonardo Royal Hotel Konigsallee, Maritim Hotel, Stage 47, Burns Art Hotel, Hotel Nikko Dusseldorf, Best Western Hotel