Transfer from Turin Airport Caselle to Cannes
Toyota Avensis, Volkswagen Passat, Chevrolet Cruze, KIA Sportage
Comfort
4
3
414,00
Mercedes C-Class, E-Class
Business Class
4
4
414,00
Mercedes S-Class, Audi A8, BMW 730, Cadillac STS
Luxury Class
3
3
642,00
Opel Vivaro, Renault Trafic
Economy Minivan
7
7
642,00
Mercedes Viano, Mercedes Vito, Volkswagen Caravelle
Business Minivan
8
8
490,00
Mercedes Sprinter, Ford Transit
Standart Minivan Long
8
12
700,00
Mercedes Sprinter 415
Standart Minivan ExtraLong
16
10
on request
Sewa Bus 25, Mercy, Mercedes Benz Sitcar Beluga
MiniBus
25
25
642,00
Mercedes 404
Bus Standart
37
37
642,00
Mercedes Tourismo, Setra 515, Volvo 9700
Bus Premium
52
52
642,00
Private chauffeur service from Turin Airport Caselle | Free waiting in airport and Free Child Safety seats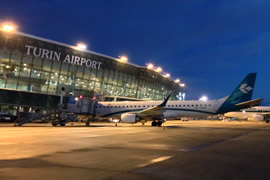 Turin-Caselle Airport is located 16 km from Turin. Thus, the fastest and safest way to get to the city centre is to call a taxi or rent a car with a driver at KnopkaTransfer. We offer comfortable bus transfer from the Turin Airport for large groups, and limousine service and private chauffeur for special guests. If you visit this part of Italy for the first time, our representative will meet you with special sign. With KnopkaTransfer you will get to any desired part of Turin quickly and comfortably, immediately after your arrival, and have the most pleasant impression of the city.
Economic minivan oe business sedan from Turin Airport Caselle and Airport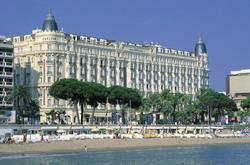 Cannes is the city for sure to be heard about by every citizen in the world. At least because of the Cannes Film Festival. However, not only the world-famous festival attracts tourists in Cannes, the city also affects the tourists by the abundance of luxurious palaces and yachts and exquisite hospitable beaches. Your exploring the city should start with the Film Festival Palace (le Palais des Festivals et des Congrès), where you will find the Avenue of Stars - it is just right here, following the long-standing tradition, the movie stars and singers leave the imprints of their hands on the Avenue. If you want to relax in a more tranquil, romantic atmosphere, then visit the Old Port with wonderful restaurants and beautiful architecture of the narrow winding streets. When planning to book a transfer to your hotel in Cannes, please feel free to contact our company. We are working for a long time in the sphere of transfer services and has become the leader in this field. We will help you to get from Cannes to the airport quickly, comfortably and at an affordable price.