Transfer from Zurich
⇔

Basel Euroairport

Mercedes C-Class, E-Class

Business Class

4

4

269.00

Mercedes S-Class, Audi A8, BMW 730, Cadillac STS

Luxury Class

3

3

415.00

Mercedes Viano, Mercedes Vito, Volkswagen Caravelle

Business Minivan

8

8

357.00

Mercedes Sprinter 415

Standart Minivan ExtraLong

16

10

on request

Mercedes Tourismo, Setra 515, Volvo 9700

Bus Premium

52

52

on request
Cheap transfer service from Zurich to Basel Euroairport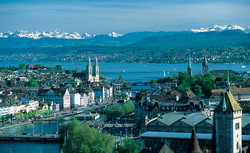 Zurich is the largest Swiss city, which is conveniently located on the northern shore of Lake Zurich. This is not just a beautiful city of Europe, but it is also a world`s financial center, which territory consists of a huge number of industrial and commercial establishments. Considering all of that Zurich has managed to retain its authentic charm: the old town will welcome you by the winding narrow streets, houses in the Gothic style, lots of cozy cafeterias, interesting antique shops ecc. The museum lovers should deffinitely visit Zurich, because there are over 50 museums over there, moreover you can visit small galleries, which always hold a variety of shows and exhibitions. Do you want to get to the city from Zurich and back to the airport quickly and comfortably? Do not forget to book from our company your transfer to the hotel in Zurich beforehand - we will offer you a high level service, comfortable cars and an affordable price .
How much taxi costs from Zurich to Basel Euroairport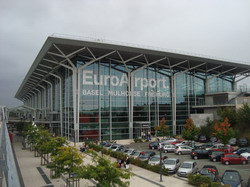 Basel Euroairport BSL is actually located on the territory of France, bordering Switzerland, it belongs to two countries at the same time. This is one of the best airports in the Upper Rhine, serving millions of tourists every year. A very good location of the airport deserves a special attention, which is equidistant from the three states. Thus, the answer to the question of how to get to the city, will depend on where you want to go - to France, Austria or Switzerland. If you are looking for a cheaper option than a taxi, you should pay attention to public transfer. For example, every 20 minutes a bus runs from the airport to the center Basel. Нou can get to the French town of Mulhouse, if you take a taxi, which moves with an interval of one hour. Also, once in every two hours, you have a chance to go to the German city of Freiburg. If you do not want to wait and don`t want to overpay for a taxi, the best way is to book a transfer service from the airport to Basel or any other city: fastly, easyly an an affordable price.
Transfer Zurich Basel Euroairport
How to get from Zurich to Basel Euroairport
Zurich Basel Euroairport taxi
Zurich Basel Euroairport transfer price
To go from Zurich to Basel Euroairport
Transfer Zurich Basel Euroairport price Euro
Limousine service - per hour rental
Airport transfer services
7 seater minibus with driver
To get from Zurich to airport or cruise port
Transfer by minibus from Zurich to Basel Euroairport
Private driver for Mercedes E, S Class
Book a transfer from Zurich to Basel Euroairport price
Baby seat
A lot of luggage and ski equipment
Mercedess Viano with baby seat
Zurich airport business transfer
How much is taxi from Zurich to Basel Euroairport
Zurich Basel Euroairport reailway station
Transportation from Zurich to Basel Euroairport price Euro
Taxi from Zurich to Basel Euroairport how much
Book online without a credit card
Meet and Great Service
Book a 16 seater bus with driver
Zurich Hauptbahnhof HB
Stadelhofen Railway Station
Train station Oerlikon
Altstetten
Hardbrucke
Enge Station
Luftseilbahn Adliswil-Felsenegg (LAF)
Adliswil and Felsenegg
Lake Zurich Transfer on luxury car
Winterthur
Baden
Brugg
Schaffhausen