Transfer from Munich to Milan
Toyota Avensis, Volkswagen Passat, Chevrolet Cruze, KIA Sportage
Comfort
4
3
678,00
Mercedes C-Class, E-Class
Business Class
4
4
684,00
Mercedes S-Class, Audi A8, BMW 730, Cadillac STS
Luxury Class
3
3
1061,00
Opel Vivaro, Renault Trafic
Economy Minivan
7
7
871,00
Mercedes Viano, Mercedes Vito, Volkswagen Caravelle
Business Minivan
8
8
849,00
Mercedes Sprinter, Ford Transit
Standart Minivan Long
8
12
1159,00
Mercedes Sprinter 415
Standart Minivan ExtraLong
16
10
1246,00
Sewa Bus 25, Mercy, Mercedes Benz Sitcar Beluga
MiniBus
25
25
1585,00
Mercedes 404
Bus Standart
37
37
1826,00
Mercedes Tourismo, Setra 515, Volvo 9700
Bus Premium
52
52
2110,00
Private chauffeur service from Munich | Free waiting in airport and Free Child Safety seats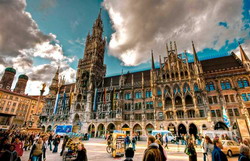 Munich is the third largest city in Germany. Munich attracts its guests with plenty of excellent museums, shopping outlets and art galleries. You should definitely take part in the Oktoberfest, which is being held here for almost 200 years, and is famous all over the world. You`d better start learning the city with Marienplatz square, which can be called the heart of the city. You shouldn`t underestimate the local museums, some of which are truly unique, interesting, for example, the Film Museum, the Museum of crystals. If you want to admire the lovely view of the city, climb one of the towers of St. Michael`s Church designed in a luxury baroque style. Do you want avoid any unpleasant experiences during your vacation in Munich? Then get ready for your trip in advance, in particular, you should order a transfer to the hotel in Munich. You can book it from our company. We will meet you at the airport and will drive you in a comfortable car right to your hotel. We can also arrange your return way from Munich to the airport, so that you could come to the airport just in time and be fulfilled with only bright, positive emotions and impressions about the city.
Economic minivan oe business sedan from Munich and Airport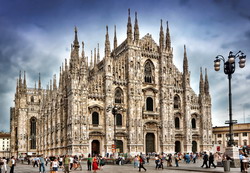 Milan is called to be one of the world`s leading centers of fashion and design, science and technology. During the Second World War, the city was badly damaged, but it was rebuilt and today it harmoniously combines the medieval monuments and ultramodern business districts. Milan is a dream that comes true for shoppers, because the local boutiques are among the best in the world. If you want to learn Milan better you should go to the Piazza del Duomo, where you can see the majestic Cathedral of the same name. You should also visit the Pinacoteca Ambrosiana, where you can enjoy masterpieces by Raphael, Caravaggio and Titian (Tiziano). The famous La Scala will please you with the best soprano voice of the world`s opera. Come to Milan and we will meet you and drive you with comfort from the airport to the hotel, and after your holidays we will help you to get to the airport from Milan just in time. All that you have to do is to book a transfer to the hotel in Milan from our company and we will take care about the rest.