Transfer from Kiel Cruise Port Ostseekai to Hamburg Airport Fuhlsbuettel
Toyota Avensis, Volkswagen Passat, Chevrolet Cruze, KIA Sportage
Comfort
4
3
222,00
Mercedes C-Class, E-Class
Business Class
4
4
305,00
Mercedes S-Class, Audi A8, BMW 730, Cadillac STS
Luxury Class
3
3
449,00
Opel Vivaro, Renault Trafic
Economy Minivan
7
7
242,00
Mercedes Viano, Mercedes Vito, Volkswagen Caravelle
Business Minivan
8
8
305,00
Mercedes Sprinter 415
Standart Minivan ExtraLong
16
10
448,00
Sewa Bus 25, Mercy, Mercedes Benz Sitcar Beluga
MiniBus
25
25
471,00
Mercedes Tourismo, Setra 515, Volvo 9700
Bus Premium
52
52
on request
Private chauffeur service from Kiel Cruise Port Ostseekai | Free waiting in airport and Free Child Safety seats

Kiel Cruise Terminal Ostseekai is the honorary title of a passenger and commercial gateway to the Baltic Sea located in the German city Kiel. Cruise Terminal has a unique scale, the newest equipment of the marine station, which yearly serves thousands of tourists from all around the world. Port is conveniently located near the train station, so the question of how to get to the port in Kiel is usually not difficult. If you`re not willing to spend your time waiting for the train and to endure the inconveniences on your way, you can contact our company. You can order a transfer serveice at our website from Kiel to the port and back, and be sure to get a high level service and comfortf for an acceptable price .
Economic minivan oe business sedan from Kiel Cruise Port Ostseekai and Airport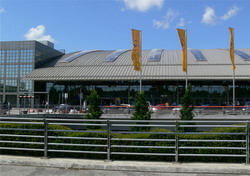 Hamburg Fuhlsbuettel Airport HAM - is an international Hamburg airport, that is 8,5 km away from the city, so you can get to the city center in a very few minutes. As of today this airport is one on the most passenger trafficked airports in Germany which passenger turnover exceeds 12 million people per year. It is the oldest airport in the country that was founded in 1911 and still workig and serving the flights in all directions. You can get to the city by public transportation ( that will cost you lees than by taxi but you will spend much more time for that), or else you can book a transfer service from the airport to Hamburg from our company. Here you can be sure that you will get the best price, high comfort and safety.