Transfer from Kiel Cruise Port Ostseekai to Copenhagen Kastrup Airport
Mercedes C-Class, E-Class
Business Class
4
4
0,00
Mercedes S-Class, Audi A8, BMW 730, Cadillac STS
Luxury Class
3
3
0,00
Mercedes Viano, Mercedes Vito, Volkswagen Caravelle
Business Minivan
8
8
0,00
Mercedes Sprinter 415
Standart Minivan ExtraLong
16
10
on request
Mercedes Tourismo, Setra 515, Volvo 9700
Bus Premium
52
52
on request
Private chauffeur service from Kiel Cruise Port Ostseekai | Free waiting in airport and Free Child Safety seats

Kiel Cruise Terminal Ostseekai is the honorary title of a passenger and commercial gateway to the Baltic Sea located in the German city Kiel. Cruise Terminal has a unique scale, the newest equipment of the marine station, which yearly serves thousands of tourists from all around the world. Port is conveniently located near the train station, so the question of how to get to the port in Kiel is usually not difficult. If you`re not willing to spend your time waiting for the train and to endure the inconveniences on your way, you can contact our company. You can order a transfer serveice at our website from Kiel to the port and back, and be sure to get a high level service and comfortf for an acceptable price .
Economic minivan oe business sedan from Kiel Cruise Port Ostseekai and Airport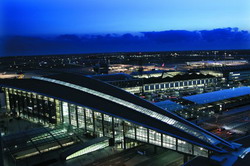 Copenhagen can be called the most peaceful and quiet capital of Europe. Being the birthplace of Andersen`s fairy tales, Copenhagen astonishes by its amazing beauty: gingerbread houses, located along the channels, a large number of museums, hospitality of local people - all this makes your staying in the city really nice and even a little bit magic. Wnen exploring the city you should start with the Town Hall Square, which is the heart of the city. You can go on a cycling tour of the city. It`s very easy to do: just put some coins into a bicycle counter and take the bike from the cycle stand. And you can get your money back when you put the bike back to its place. However, you still have to get to the bikes somehow.... And yet, upon arrival, you should think how to arrange your transfer to the hotel in Copenhagen. You can do this by contacting our company, we ensure to provide you with a high quality service, comfortable cars and affordable prices. You also can get back to the Airport from Copenhagen at the end of your staying with our help also.