Transfer from Hamburg to Hamburg Luebeck Airport
Toyota Avensis, Volkswagen Passat, Chevrolet Cruze, KIA Sportage
Comfort
4
3
132,00
Mercedes C-Class, E-Class
Business Class
4
4
204,00
Mercedes S-Class, Audi A8, BMW 730, Cadillac STS
Luxury Class
3
3
222,00
Opel Vivaro, Renault Trafic
Economy Minivan
7
7
147,00
Mercedes Viano, Mercedes Vito, Volkswagen Caravelle
Business Minivan
8
8
207,00
Mercedes Sprinter 415
Standart Minivan ExtraLong
16
10
326,00
Sewa Bus 25, Mercy, Mercedes Benz Sitcar Beluga
MiniBus
25
25
342,00
Mercedes Tourismo, Setra 515, Volvo 9700
Bus Premium
52
52
on request
Private chauffeur service from Hamburg | Free waiting in airport and Free Child Safety seats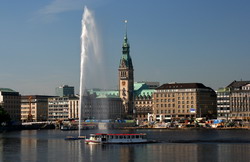 Hamburg is one of the richest cities in Germany along with being the largest sea port. The city hosts a large number of offices, banks, trading companies, insurance companies. Historically, Hamburg is divided into the Old city and the New city, being devided into two parts by the Alsterflit channel. You can admire the extremally beautiful view of the center`s most interesting sightseeings from the Trost Brücke bridge: the ruins of the medieval church of St. Nicholas Hall, the oldest stock exchange in Germany. In general, there are a lot of reasons to visit Hamburg for a holiday. But in any case the quality of your rest time will depend on how carefully you will arrange your trip. For instance, you should book your transfer from the airport to your hotel in Hamburg beforehand. The best way is to book a transfer service from our company and be sure that you will get to the airport with safety and high comfort. Also we can arrange your return way from Hamburg to the airport just in time.
Economic minivan oe business sedan from Hamburg and Airport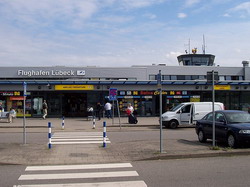 Hamburg Luebeck Airport LBC is a small german airport which is only 8km away from Lubek and 54 km away from Hamburg. A lot of companies can offer you a transfer from the airport to Lubek and Hamburg, but not all of them will offer you better than taxi price and the maximum comfort. Be sure that we can do it! Our company is working in the sphere of transportation services for many years, it has got a large experience and have become a leader in this field, because we know the way to offer our clients the best combination of acceptable price with the high quality service, safety and comfort. You can easily get to the city in the shortest possible time if you just order the transfer from our company. You will see that in the agreed time the comfortable car will be waiting for you and will bring you to the destination point.