Transfer from Genoa to Pisa International Airport
Mercedes C-Class, E-Class
Business Class
4
4
348,00
Mercedes S-Class, Audi A8, BMW 730, Cadillac STS
Luxury Class
3
3
427,00
Opel Vivaro, Renault Trafic
Economy Minivan
7
7
351,00
Mercedes Viano, Mercedes Vito, Volkswagen Caravelle
Business Minivan
8
8
366,00
Mercedes Sprinter, Ford Transit
Standart Minivan Long
8
12
463,00
Mercedes Sprinter 415
Standart Minivan ExtraLong
16
10
503,00
Mercedes Tourismo, Setra 515, Volvo 9700
Bus Premium
52
52
on request
Private chauffeur service from Genoa | Free waiting in airport and Free Child Safety seats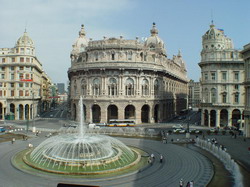 Genoa is a port city located on the Ligurian Sea, the capital of the province of Genoa, Liguria. Local harbor for today is one of the most important Italian ports, one of the largest in Europe. In addition to the critical importance of the city in terms of sea routes, Genoa is also a center for shipbuilding and heavy industry, being one of the three countries, apart from Turin and Milan, in the industrial triangle. Deciding to go to Genoa, do not forget to enter the port and take a picture with the background of the world famous lighthouse La Lanterna. Well worth visiting the gallery of mirrors, which you can find in the palace of the Spinola di Pellicceria. If you want to make your holiday to be free of any unpleasant surprises, you can contact our company and order a transfer service from Genoa to the airport and back quickly and comfortably. Here you can order a transfer to the hotel in Genoa and we will meet you at the airport and will deliver you to your hotel in a comfortable car. We are looking forward to getting your orders!
Economic minivan oe business sedan from Genoa and Airport

Pisa Airport PSA (Pisa International Airport) is the largest airport in Italy, which annually serves more than one million passengers. To get to the city of Pisa, you can just in a few minutes (by car), as it is just 4 kilometers away from Pisa. The Airport is 35 km away from Lucca, 90 km away from Prato and 110 km aay from Florence. The airport has a railway station with an every half hour running express. You can take a bus that drives you to the station Pisa Central. These options are cheaper than a taxi, but you will have to endure some inconveniences on you way, especially if you are carrying heavy luggage or traveling with children. In this case it is better to book a transfer from the airport to Pisa from our company, thus you can count on a guaranteed comfort and affordable prices.