Transfer from Genoa Airport Cristoforo Colombo to Sirmione
Mercedes C-Class, E-Class
Business Class
4
4
389,00
Mercedes S-Class, Audi A8, BMW 730, Cadillac STS
Luxury Class
3
3
602,00
Mercedes Viano, Mercedes Vito, Volkswagen Caravelle
Business Minivan
8
8
519,00
Mercedes Sprinter, Ford Transit
Standart Minivan Long
8
12
656,00
Mercedes Sprinter 415
Standart Minivan ExtraLong
16
10
715,00
Mercedes Tourismo, Setra 515, Volvo 9700
Bus Premium
52
52
0,00
Private chauffeur service from Genoa Airport Cristoforo Colombo | Free waiting in airport and Free Child Safety seats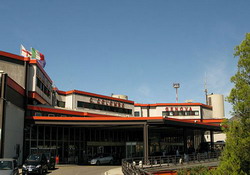 Airport of Genoa " Christopher Columbus " is a major international airport located six kilometers from the city on an artificial peninsula. The airport serves more than one million passengers per year, it has a connection with the major European and Italian cities - Palermo , Naples , Rome , London, Paris , Istanbul, ecc. Due to the short distance between the airport of Genoa, it is very easy to get to the city . You can take the special bus that is cheaper than a taxi, but the bus runs within a half an hour break. You can take a taxi, but should take into your consideration that the price of this trip will be quite expensive. Therefore we can offer you an alternative way that is more favorable from a financial point of view, is the transfer service from the airport to Genoa arranged by our company along with maximum comfort and high safety during your trip.
Economic minivan oe business sedan from Genoa Airport Cristoforo Colombo and Airport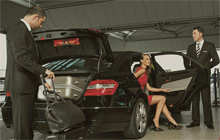 When visiting Sirmione, you can book a per-hour car rental with driver from 2 hours/day and more. Meet and Greet service, offered by our company, will significantly simplify the meeting in the airport for the newcomers. Using a "car rental with driver" service you can vesit the places of interest, famous shops or outlets to do some shopping near the city, saving your time in this way. Sirmione chauffeur service offered by our company will cost you much cheaper to order a car rental with driver with us than to hire a taxi driver. To book the economy car or minivan with chauffeur or a comfortable premium class car, coach, shuttle bus up to 50 seats, please choose the button. Per hour rental in the left upper corner of the page, write in the [Departure:] field the departure point and number of hours.