Transfer from Frankfurt am Main Airport to Brussels Airport Charleroi
Fiat Punto, Peugeot 206, Vokswagen Golf, Fiat Doblo
Economy
3
2
681,00
Mercedes C-Class, E-Class
Business Class
4
4
584,00
Mercedes S-Class, Audi A8, BMW 730, Cadillac STS
Luxury Class
3
3
893,00
Opel Vivaro, Renault Trafic
Economy Minivan
7
7
725,00
Mercedes Viano, Mercedes Vito, Volkswagen Caravelle
Business Minivan
8
8
769,00
Mercedes Sprinter, Ford Transit
Standart Minivan Long
8
12
981,00
Mercedes Sprinter 415
Standart Minivan ExtraLong
16
10
on request
Sewa Bus 25, Mercy, Mercedes Benz Sitcar Beluga
MiniBus
25
25
1406,00
Mercedes Tourismo, Setra 515, Volvo 9700
Bus Premium
52
52
2042,00
Private chauffeur service from Frankfurt am Main Airport | Free waiting in airport and Free Child Safety seats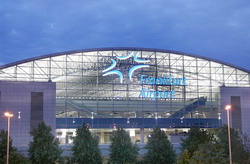 Frankfurt International Airport FRA is the biggest German airport that is second only after London Heathrow Airport and Paris Charles De Gaulle Airport by the passenger traffic. It was the first place that started using the automatic luggage sortage system that made much easier the passport control procedure. You can get to the aiport by electric train or by bus. The taxi servise will cost you about 50 Euro. Still it doesn`t mean that you will have to choose between the options: either to loose your time and comfort or to be forced to pay extra for taxi services. However the better option is to order a transfer servise from our company. We can offer you not only the possibility to save some money (because it is cheaper than a taxi) but we also guarantee the high comfort and safety on your way to the city. Please feel free to contact us!
Economic minivan oe business sedan from Frankfurt am Main Airport and Airport

Brussels South Charleroi Airport CRL is the biggest airport of Vallonia and the second biggest one by passenger traffic in Belgium. It is only 46 km from airport to Brussels to the South, thus you can pass this distance in about half an hour by a good car. However the way from airport to Brussels by taxi will be quite expensive. There are two ways to save your money: first is to use some public transport but loosing a lot of time and gaining stress in a crouded bus or else you can easily contact our company and get the high quality transfer servise with the cheaper than a taxi price, with safety and comfort. Enjoy your transfer with our company!