Transfer from Berlin Airport Tegel to Luckenwalde
Toyota Avensis, Volkswagen Passat, Chevrolet Cruze, KIA Sportage
Comfort
4
3
110,00
Mercedes C-Class, E-Class
Business Class
4
4
114,00
Mercedes S-Class, Audi A8, BMW 730, Cadillac STS
Luxury Class
3
3
170,00
Opel Vivaro, Renault Trafic
Economy Minivan
7
7
142,00
Mercedes Viano, Mercedes Vito, Volkswagen Caravelle
Business Minivan
8
8
150,00
Mercedes Sprinter, Ford Transit
Standart Minivan Long
8
12
189,00
Mercedes Sprinter 415
Standart Minivan ExtraLong
16
10
0,00
Mercedes Tourismo, Setra 515, Volvo 9700
Bus Premium
52
52
0,00
Private chauffeur service from Berlin Airport Tegel | Free waiting in airport and Free Child Safety seats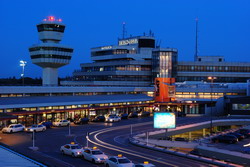 Berlin Tegel Airport TXL is the biggest Berlin Airport as for today. It is 8 km away to the north-west of Tegel District of Berlin. It is located far away enough from the subway lines, thus getting to the city is only by bus or by car. The second way is provided by taxi service or by transfer servise from the Berlin airport. The advantage of the public transportation is the low cost all the way with the time waisting and not olway comfortable conditions. As to the taxi, it is rather expensive value. That`s why the transportation service beomes more and more popular (cheaper than taxi) but still with the high quality service and comfort. If you are looking fro a high quality transfer servise please contact our company!
Economic minivan oe business sedan from Berlin Airport Tegel and Airport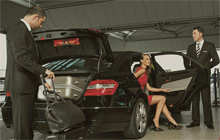 When visiting Luckenwalde, you can book a per-hour car rental with driver from 2 hours/day and more. Meet and Greet service, offered by our company, will significantly simplify the meeting in the airport for the newcomers. Using a "car rental with driver" service you can vesit the places of interest, famous shops or outlets to do some shopping near the city, saving your time in this way. Luckenwalde chauffeur service offered by our company will cost you much cheaper to order a car rental with driver with us than to hire a taxi driver. To book the economy car or minivan with chauffeur or a comfortable premium class car, coach, shuttle bus up to 50 seats, please choose the button. Per hour rental in the left upper corner of the page, write in the [Departure:] field the departure point and number of hours.