Transfer from Amsterdam to Brussels
Fiat Punto, Peugeot 206, Vokswagen Golf, Fiat Doblo
Economy
3
2
284,00
Toyota Avensis, Volkswagen Passat, Chevrolet Cruze, KIA Sportage
Comfort
4
3
312,00
Mercedes C-Class, E-Class
Business Class
4
4
288,00
Mercedes S-Class, Audi A8, BMW 730, Cadillac STS
Luxury Class
3
3
548,00
Opel Vivaro, Renault Trafic
Economy Minivan
7
7
288,00
Mercedes Viano, Mercedes Vito, Volkswagen Caravelle
Business Minivan
8
8
288,00
Mercedes Sprinter, Ford Transit
Standart Minivan Long
8
12
327,00
Mercedes Sprinter 415
Standart Minivan ExtraLong
16
10
327,00
Mercedes 404
Bus Standart
37
37
365,00
Mercedes Tourismo, Setra 515, Volvo 9700
Bus Premium
52
52
on request
Private chauffeur service from Amsterdam | Free waiting in airport and Free Child Safety seats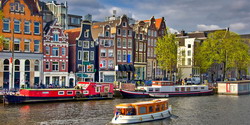 Amsterdam is not only the capital of the Netherlands, but it is an incredibly beautiful and attractive city. Numerous attractions, that require more than several days or even more than a week for their exploration, are perfectly complemented by the kindness and hospitality of the locals. Having decided to visit the city, you`d better take some "author`s concept" excursions, which will involve you into an alternative, different or even crazy Amsterdam - during these excursions you can explore the informal styles of the city: hippies, punks, members of sexual minorities ecc. However, you`d better stop your experiments with only excursions getting. As to the organizational aspects, it is better not to take a risk here and to book beforehand a transfer service. More over it is very quick and easy to book a transfer to the hotel in Amsterdam at our website - just contact us. We are also ready to help you to get from Amsterdam to the airport - quickly, easily, comfortably and at affordable prices .
Economic minivan oe business sedan from Amsterdam and Airport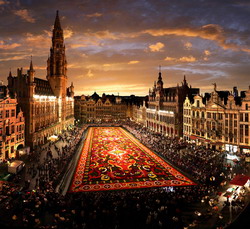 Brussels can be considered to be a political and cultural center not only in Belgium but also throughout Europe. Going to this wonderful city, please prepare a to-do-list or a plan. Do not forget to include the visit to the "Belly of Brussels" quarter, which is located behind the Market Square. Here you can taste the best Belgian specialties. For fun you can arrange a competition with your fellow travelers and try to find all the pissing sculptures of the capital (there are three of them: a girl, a boy and a dog). In conclusion of your Brussels vacation treat yourself to a delicious dessert - Brussels balls. If you want to gain more time for enjoying your staing in Brussels make sure that you booked in advance the transfer service from the airport to your hotel. Thus you will be able not only to save your time, but also your nervous system and money (because the transfer service is cheaper than a taxi). Just spend 5 minutes to arrange your transfer and be sure to get the relaxed and piecefull holidays.