0 Val Thorens is the top-class resort in Three Valleys
Your vote is:
4.73 of 11 votes
Skiing France. Val Thorens is the highest resort in Europe
Val Thorens is the French ski resort which literally and figuratively is at the highest level. It is considered the highest resort in Western Europe - the place is located at around 2300 meters above sea level. And also service level and trails quality are beyond all praise.
Tip-top
Val Thorens is a part of a well-known ski area called "Three Valleys" or "Trois Vallees" in French. This is the place where the most famous and best in the world French ski slopes are located. On the slopes you often can meet famous athletes who sharpen their skills here before competitions. And also the guests of Val Thorens are invited to lift by the cable railway to Pierre Lorit high-altitude view point (at a height of 2300 meters) to enjoy stunning sights, and the most desperate can even schuss from here.
But you should remember that Val Thorens is a high-mountain resort. That is why it can be difficult at first time but it will be for a little while. After lifting, you need to wait for a while to give your body time to acclimate and get used to it. But then you will get a lot of fun skiing on the local slopes, there are many and various of them here.
The nearest airport is Chambery, it is 112 kilometers from Val Thorens. It takes about an hour to get here by bus. Geneva airport is 120 kilometers away from the resort, and Lyon airport is 200 kilometers from Val Thorens.
The resort is not isolated from neighboring skiing areas. That's why you can get to Val Thorens from other villages even ski-running. For example, it will take just one hour and a half to get from Val Thorens to the furthest Courchevel skiing. On your way you can enjoy beautiful nature of the French Alps. But if you do not want to go there skiing, then you can use ski-buses that run between the resorts.
The trails offered in Val Thorens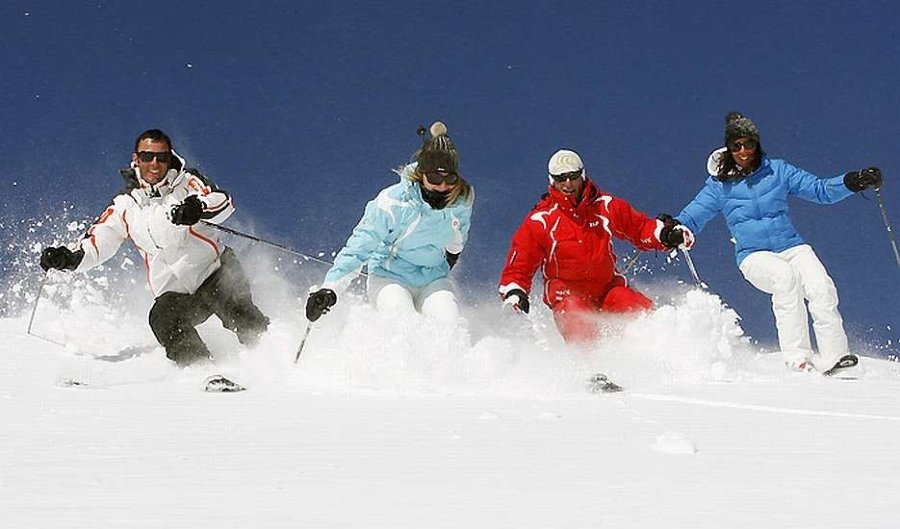 The trails of Val Thorens grew to 140 kilometers in length. The resort is suitable both for beginners and experienced skiers. There are 66 trails and 30 ski lifts here. Up to 52 thousand people per hour can freely ski in Val Thorens. The season lasts from the beginning of November till the end of May. To have rest from skiing, guests are offered a great many of international restaurants, as well as hotels, swimming pools and spas, and some of them are directly under the open sky. What could be better than relaxing in warm water after skiing being surrounded by snow-capped mountain peaks.


---
Book your transfer to Val Thorens right now and get 5% discount CLICK HERE.
***Valid only for book return***
Tel.: +39 0294751669